Moms should share all those helpful tips they discover when attempting to make their homes organized.  Let's face it…Laundry is the never-ending battle we all struggle to fight.  If you're a working mom, its waiting for you after that long, stressful day.  Not to mention all the other chores that you need to complete before the the end of the night.  If you're a stay-at-home mom, you are fulfilling every last need for all your kids during every moment of the day.  Who wants to fold laundry during the five minutes you get to sit down.
Guess what?  It has to be done.  Someone has to do it and that someone is usually mom.  So… I decided with the new year here, I'm not going to dread laundry.  I'm not letting it WIN!  I do not want heaps of clean laundry on my bed staring at me day after day.  I don't want to dig through a packed clothes basket to find that favorite t-shirt anymore!  You have the same problem, just admit it.  Let's join forces and share our helpful tips with one another.
HERE'S my list!   It has helped me succeed in keeping my head above the waves of the endless laundry sea.
---
Top 7 Ways to Keep Up the Laundry
1.  Fold you're laundry as soon as you hear the dryer buzz.  I listed this first because its the most important one.  Do it!  If you are eating dinner, talking on the phone, playing with the kids… whatever it is, stop what you're doing and go fold those hot clothes!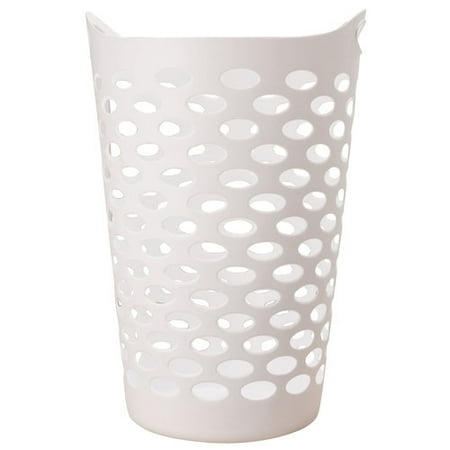 2.  Purchase (3) tall hampers for each laundry section (towels, whites, colors).  These hampers should have handles at the top so its easy to carry to the laundry room.  I keep these in the linen closet in my bathroom.  You could also do this for the kids' bathroom.  Explain to you family that when they remove clothing, they need to sort into the appropriate bins.  It's best to put these bins in a place that is convenient and also the most common place to undress.  When one of the baskets is almost filled to the top, you have a load.  These flex baskets make it easy to carry to the laundry room.  I purchased mine HERE. 
3. Teach the kids to fold the simple things.  That will also keep them occupied.  My 5 year old can fold towels and underwear.  It's a small victory of ours. LOL!
4.  Clothes that belong on hangers, separate them from the clothes that go in drawer.  Hang them up as they come out of dryer.
5.  Do a load every. single. day!  Even when you don't feel like it, do it anyway.  Even when you have been so successful and you don't have heaped hampers in the closet, DO A LOAD!
6.  Do you have the 'delayed start' setting on your washing machine? Seriously, this is a magic button!  If you have a newer model washer, you most likely have this setting.  That load you don't have time to do before you go to bed, no problem.  Pop them in the washer, add your detergent, set the delayed start for the amount of hours desired and its ready to go.  I set mine so that it starts while I'm still sleeping the next morning.  When I wake up, the washer is  finishing up and I can immediately move the clothes to the dryer.  This is a good option for working moms.  Pop a load in at night, then dry while your getting ready the next morning.  A HUGE  time saver.
7.  Have a couple of squatted laundry baskets for completed folding.  You can easily stack your folded laundry in these.  You can also send these baskets off with the older kids to put away their clothes in their rooms.  Check these out…  Squatted Laundry Basket.  I'm sure you can find a cheaper version at your favorite discount stores.
This list has really helped me and I know it will help you too!  However, I know that there will be an inevitable relapse in the days ahead.   But, hen those days arrive,  I will remember how good it felt to have my laundry caught up, and every item in its rightful place.   There is nothing sweeter than the bliss of calm sailing on the sea of laundry!
Share your tips in the comments!